Summer Schools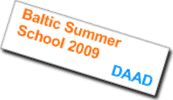 In close cooperation with the University of Rostock, the University of Bremen and the University of Luebeck, the ISNM is participating and organizing the Baltic Summer School on Technical Informatics (BaSoTi) since 2005.
The International Summer School offers special courses to support the internationalisation of education and the cooperation among the universities of the Baltic Sea Region. Aims are preparation for international Master and Ph.D. programs in Germany, further specialisation in computer science and information technology and learning in a simulated environment.
The summer school is sponsored by the German Acadamic Exchange Service (DAAD) and is usually performed in August at varying places in the Baltic region (2005/2006 - Vilnius, 2007 - Riga, 2008 - Tartu).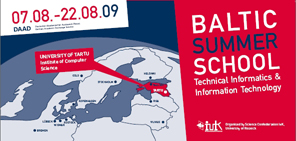 This year (2009), the Science Confederation IuK has organised an International Summer School at University of Tartu under the aegis of the German Embassy in Tallinn. The DAAD now supports the Summer School the fifth year.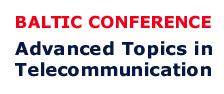 Since 2007 the BaSoTI includes a scientific conference. The Third Baltic Conference on Advanced Topics in Telecommunication will take place at the Institute of Computer Science at the University of Tartu from August 14-15th, 2009.
The conference is open for submissions of researchers at all levels and from all countries. It is specifically directed at PhD researchers and collaborators of the BaSoTI cooperation of the Universities of Lübeck, Bremen and Rostock, the International School of New Media at the University of Lübeck, the University of Tartu, the Vilnius Gediminas Technical University and the Information Systems Management Institute at Riga.
Please download the
Call for Paper
.