Mobile Library Services
RFID-based Library Services on Mobile Devices
Supervisor:
Prof. Dr.-Ing. Andreas Schrader

Participants:
Darren Carlson, Stefan Beck

Subjects:
Object Tracking, Ubiquitous Computing, RFID, Mobile Services
This project presents a novel user interface for library services on mobile devices and was realized as a master thesis at the ISNM in 2006 in cooperation with EasyCheck. It supports library users with digital information for physical media items directly at the shelf, therefore enhancing the browsing process in physical media collections using related virtual information. PDAs, equipped with RFID or Barcode readers, allow for scanning media items and augmenting physical media items with additional information.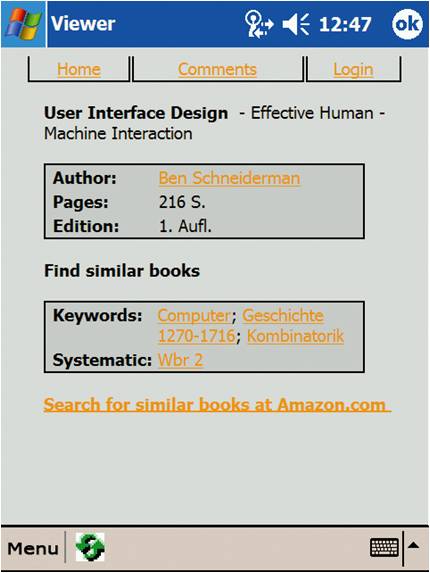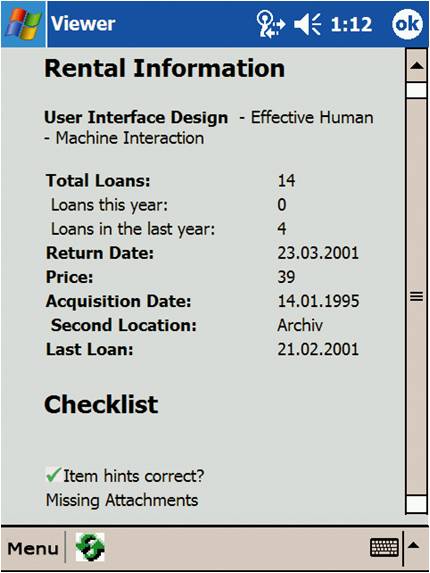 The system is using wireless networks to perform realtime connectivity to the backend library database server and supports local and global information augmentation. The local information consists of media item related bibliographic entries, the current rental status and recommendations and ranking information. The global information access is realized using Internet based services, e.g., calling the respective Amazon(TM) page. The PDA can also be used by the library staff to realize an inventory directly at the shelf withtout the need for carying books to a rental station. A prototype was realized using a Dell Axim x50i PDA with an ACG Handheld RFID Reader and Philips RFID tags.
The proposed system therefore presents a new method in using new media technology to enhance the learning process in physical libraries, bridging the gap between the physical and virtual knowledge space and moving towards the Internet of Things.
More information can be found at:
Stefan Beck
RFID Based Asset and Service Management with Mobile Devices in Modern Libraries
Master Thesis, ISNM, 2006.
Stefan Beck and Andreas Schrader
Mobile kontextsensitive Dienste in der modernen Universitaetsbibliothek
Pervasive University 2006, (PerU 2006) Workshop at the 36th Annual Meeting of the German Informatics Society (GI Jahrestagung)
Dresden, Germany, October 2-6, 2006.