ECHOES
Pervasive Mobile Multiplayer Game
Sponsor:
Unabhängige Landesanstalt für Rundfunk und neue Medien (ULR) Schleswig-Holstein
Team:
Prof. Dr.-Ing. Andreas Schrader, Darren Carlson, Karen Detken, Carlos Martinez, Varvara Guljajeva, Mari Klara Oja, Xiaojing Fan, Lihua Song, Luo Zhu, Hong Chun and Loreto Jaque
Duration:
10/2007 - 2/2008
Subjects:
Pervasive Games, Mobile Games, Multiplayer Games
Computer games play an increasing role in our modern information society. Besides pure entertainment, games can provide valuable input for social interaction, learning, etc. Recently, new pervasive game genres have been developed, including mobile games, tangible games, table-top games, exhaustive games, mixed reality games, etc. Pervasive games extend the traditional game experience by supporting natural contexts within game experiences. ECHOES is a new mobile pervasive multi-player game which is played outside the boundaries of a building. ECHOES combines the classic features of hunting games with the logic of riddles to create a fun and exhaustive experience in a city.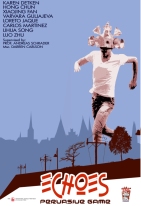 The story of ECHOES is based on a crazy man (the fugitive) who is locked up for treatment of his schizophrenia in a mental institution. This patient is sure that there are sounds chasing him; telling him a special message that he must decipher. The patient manages to escape from the hospital and embark in a quest to find the source of the sounds and prove to the world that he is not crazy. He has to run across the streets of the city, searching, retrieving and recognizing sounds in a race that will take him either to his freedom, or back to the mental institution.
ECHOES does not rely on standard location detection techniques (GSM signal strength or cell ID, RFID, etc.) Rather, our game incorporates the location-guessing into the game-play and uses an existing online image platform (Flickr) as the communication channel. In this way, social communication of Web 2.0 portals is extended to the real life scenario using a game approach.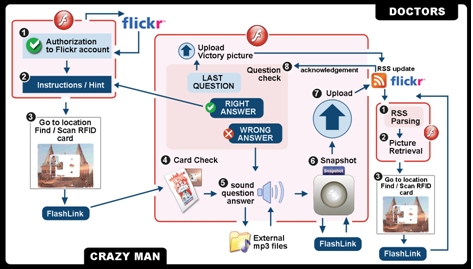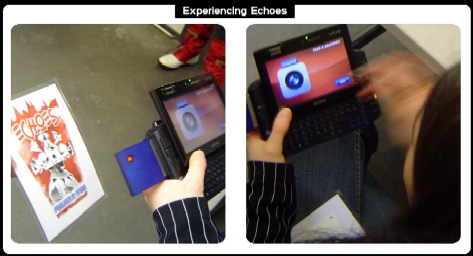 The system is based on two Sony Vaio UX180P Micro-PCs (UMPCs) which run the Windows Vista operating system and provide built-in camera support. A compact flash RFID reader interface card was attached to each UMPC. Internet connection was realized via cell phones connected as UMTS modems in order to be independent of WLAN coverage in the city.
More information can be found at:
Karen Detken, Carlos Martinez, Darren Carlson, Varvara Guljajeva, Mari Klara Oja and Andreas Schrader
ECHOES – A Crazy Multiplayer Pervasive Game
Workshop for Mobile Gaming (Mobile Gaming '08) at (GI) Informatik'2008,
Munich, Germany, September 9, 2008.