HYBRARY
Hybrid Library
Sponsor:
Hochschulwissenschaftsprogramm (HPW), Ministry of Science in Schleswig-Holstein
Team:
Prof. Dr.-Ing. Andreas Schrader
Partner:
Duration:
10/2004 - ongoing
Subjects:
Hybrid Library Services in Ambient Environments
The Library of the Future extends the idea of the hybrid library by intensive usage of advanced media technology in space and cyberspace. We call this the Hybrary – Hybrid Library. The Hybrary will maintain a collection consisting of all forms of media, including physical, printed material, electronic data on different storage media and digital information stored in computer systems. Furthermore, this library will exist as a physical space with physical media and access mechanisms. However, it will at the same time exist as a virtual library in the cyberspace allowing remote access via many different communication channels. The Hybrary of the future will be an institution comprising several dimensions in space and cyberspace and offering a continuum of joint possibilities.
We started to implement this idea within the McLuhan Documentation Center. The McLuhan was one of the most advanced scientific libraries for new media worldwide, located in the MediaDocks, the former granary of Lübeck and hosted by the ISNM.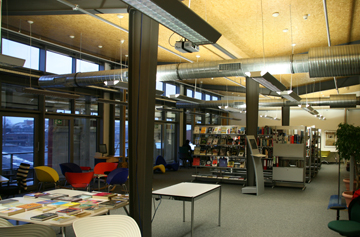 With generous founds from the Ministry of Science in Schleswig-Holstein and the Innovationsstiftung Schleswig-Holstein we were able to equip the library with ubiquitous computing systems (PDAs, Kiosks, Plasmas, WLAN, Beamer, etc.). Actually, the McLuhan Library was the first scientific library in Schleswig-Holstein offering fully automatic RFID self-booking and security.
In addition, numerous research projects have been performed in co-operation with leading library equipment manufactors, e.g. NEVA, Tangible Archive, Smart Library Table, SearchWall, RFID-based inventory, and many more. Please see the web portal of McLuhan for more information.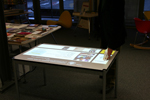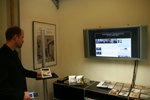 Due to our move to the campus of the University of Lübeck, we had to close the McLuhan Center at the Media Docks and are currently applying for more fund (DFG) to set-up new locations at the library of the University of Arts in Berlin and the University library of Lübeck in order to establish a virtually connected scientific library learning space.
More information can be found at:
Beate Sieweke and Andreas Schrader
Hybrary - The Hybrid Library of the Future
In: J. Hasebrook, G. Muhr & A.Schrader (eds.), Applying digital media to culture, Amsterdam: IOS Press (to appear).
Karen Detken
Tangible Information Interfaces for Children in Public Libraries
Master Thesis, ISNM, 2009
Song Lihua
Smart Library Table
Master Thesis, ISNM, 2009
Karen Detken, Carlos Martinez Gomez and Andreas Schrader
The Search Wall - Tangible Information Searching for Children in Public Libraries
3rd International Conference on Tangible and Embedded Interaction (TEI 2009),
February 16-18, 2009, Cambridge, UK.
Andreas Schrader
Hybrary - Ambient Environments for Hybrid Libraries
Cognitive Design, Workshop at the Mensch & Computer Conference 2008,
Luebeck, Germany, September 8, 2008.
Karen Detken and Andreas Schrader
Tangible Information Interfaces for Children in Public Libraries
Cognitive Design, Workshop at the Mensch & Computer Conference 2008, Luebeck, Germany, September 8, 2008.
Chun Hong
Hybrid Service Systems between Space and Cyberspace
Master Thesis, ISNM, 2008
Stefan Beck and Andreas Schrader
Mobile kontextsensitive Dienste in der modernen Universitätsbibliothek
Pervasive University 2006, Workshop at the 36th Annual Meeting of the German Informatics Society (GI Jahrestagung),
Dresden, Germany, October 2-6, 2006.
Stefan Beck and Andreas Schrader
Tangible Books - Virtual Library Interfaces
Demonstration at the 4th International Conference on Pervasive Computing, Dublin, Ireland, May 7-10, 2006.
Stefan Beck
RFID Based Asset and Service Management with Mobile Devices in Modern Libraries
Master Thesis, ISNM, 2005
Abdul Ahad
The Virtual Librarian: Development of a Life-Like Character for a Kiosk-based Information System
Master Thesis, ISNM, 2005